If you haven't already read through the Meet Us section, allow me to let you know that I am an avid reader, among other things (go read the section here). I am a big fan of memoirs and biographies, the sicker the story and the faultier the family dynamics are, the more I absolutely adore the book; especially if it is told in a tone that also makes you look like a psychopath in public because you are sitting alone in a corner cracking-up crying at the absurdity of it all (read: David Sedaris, Chelsea Handler, or Tucker Max, among others).

I have been given the awkward stare more than once by groups of people who arise from their seats and slowly make their way to another area in fear that I may have recently escaped from somewhere.
When FM left for BCT, my Goodreads "to-read" shelf had grown quite large, and while it was difficult to try to ignore his absence and lack of communication, getting lost in someone else's depravity (or even some historical fiction) helped the hours and days roll by that much faster.

And it felt great to finally make a bit of a dent in that somber shelf.
So, even though FM is now done with basic, and I have far less time than I did before to devote to reading, I'm joining up with Read-A-Thon Central and seven other independent bloggers (Oh, Chrys!, Tumbling Books, Effortlessly Reading, Love Life Read, Shelf Addiction, Read Sleep Repeat, and Reviewing Wonderland) for the Summer Lovin' Read-A-Thon week, starting July 1st.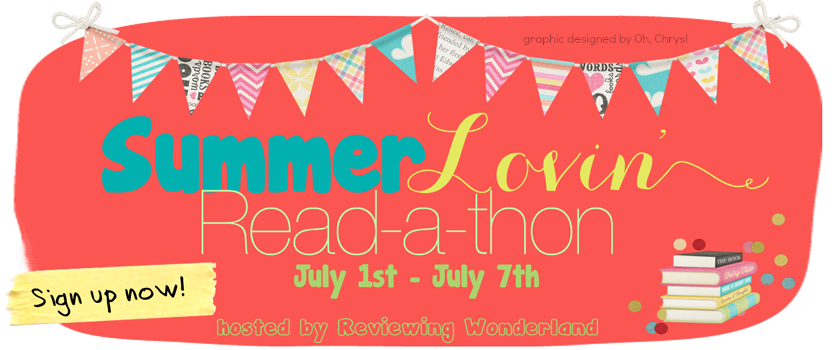 So, dust off those books that are dying to have their spines cracked and dive in to a great summer read. You can spend the week reading at your own pace, when and how you want to.
And if you haven't done so already, sign up for a Goodreads account, it is well worth it to keep your favorite reads organized and get great recommendations for future reads. You can check out my previous adventures in book land here:
Our hosts promise daily challenges for awesome prizes and opportunities to get points toward the Grand Prize Packs, and the week will end with a 24-hr marathon read-a-thon! Twitter parties, mini-challenges, games, prizes given EVERY HOUR, and more chances to get points toward the Grand Prize Packs.
Sign-ups will be open through July 6th.
I am most definitely down for some mental stimulation while FM finishes up AIT. Give it a shot, there's nothing to lose other than a few extra titles from your "to-read" pile.
Have fun!