Hey everyone...
Due to my indulgence in a couple of giant glasses of wine (ok, maybe I drank the whole bottle by myself, so what?), and my 3AM Skype date with Mr. FM, I'm not feeling all too up to intelligent blogging, and that may just carry throughout the whole weekend. I am really having trouble with this whole 13 hour time difference thing lately, and it's only made worse by the fact that the universe is plotting against us and refuses to let us video chat. But we fooled the universe this time... even if I had to stay up til all sorts of ridiculous hours that I haven't seen on the clock since my days back college... Ahh, college!
This is the happiest blurry face I've ever seen.
LOVE IT!


So what better way is there to keep up in blog land without actually blogging yourself?!? Hop of course!
Head on over to the Love my Post hop, and link up your fav post from the week. You know, the one that made you say, "yes, this is really going to get a ton of reads, I'm super awesome and should do this for a living." You know you have one! So do that, and then check out everyone else's awesomeness too, because that's just polite!
And when you're done, stop by the Weekend Blog Block Party, because it's summer and that's just a fantastic idea to throw an online block party, and the hosts should get some love for that! If only it came with hamburgers and pasta salad too!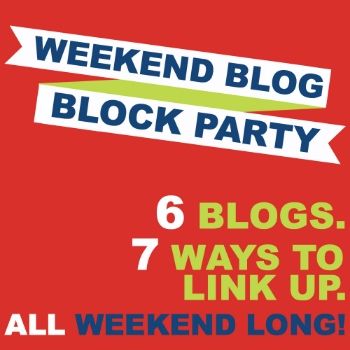 And surely when you stop on by this blog you should hit that super cute button at the bottom and follow me on Bloglovin' so we can keep the party going all week!! I promise I'm not still drunk, just in a really great mood after a fantastic girls night out with my best friend, a bottle of wine, and finally getting to see my husband's face!
Have a fantastic weekend all!