Thankfully, I am not talking about my personal battle… yet.
I come from a long line of strong and determined women.
Women that lay down the law, have a can-do attitude, and don't take sass (to be PG) from anyone!
But I also come from a line of women who have battled, and lost, against breast cancer.
Every October I become a mix of two contrasting emotions.
The first being sadness and grief for my losses, the battles that were fought so valiantly and surrendered.
And the second hope and inspiration for the future, and the drive to be proactive for my own health.
As I co-host this Blog Hop for Hope for the next few weeks I will be sharing some personal accounts, and though I may be holding back a range of emotions on the other side of this keyboard, I share with the optimism that my tale will inspire us all to be proactive and seek out medical attention long before it is suggested we should, and that we will one day live to see a cancer free world… or at least my children may.

Stay posted for the Blog Hop for Hope going live tonight at 8 PM EST, and feel free to share your personal experiences and triumphs with this disease!
I lost my maternal grandmother to breast cancer at age five.
I was barely able to comprehend coloring inside the bold black lines no less what was happening to her, why we were in that strange giant place with all of the beeping machines that was freezing cold and smelled like feet all the time, or why grandma carried around a huge pine green tube on wheels with a string coming out of it that she stuck up her nose.
I guess I was lucky, I didn't get to see her deteriorate before my eyes to a shell of the woman she once was like everyone else did.
The world through a kid's lens is funny that way.
She fought the good fight.
She fought it hard.
Round one wasn't easy, but she made it through the radiation, the precious curled hairs falling out in clumps on a daily basis, and the chemotherapy treatments that she carpooled with a fellow cancer patient to only to be forced to pull the car over to vomit in the storm drains on the way home.
And she did it with class and dignity.
But round two did not treat her as kind, if that's at all possible.
It came back with a vengeance, as if she was not supposed to fight so hard to defeat it.
She succumbed to its wishes, reluctantly, at age sixty-seven.
I was not fortunate enough to spend a long time with her.
From what I hear, and how I notice she affected the lives of those around her, she was a phenomenal lady.
She has taught me more about survival, persistence, and will in the 20 years she has been absent than I have learned from anyone I have been in contact with half as long.
She inspires me to be a better me, to fight as hard as I can in whatever I do, to have no use for defeat.
She is one of the many reasons I raise money for the Making Strides Against Breast Cancer walk.
She is one of the reasons why I volunteer my time to the American Cancer Society.
She is why I stand a better chance of being diagnosed with breast cancer, and CRUSHING it!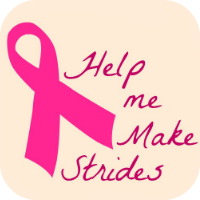 The straight facts…
In the US breast cancer will claim the life of at least 39,620 patients. That's a little over 108 per day or 1 in 36.
[s]
Breast cancer is the most common cancer amongst Hispanic/Latina women, and breast cancer rates are highest amongst non-Hispanic white women, followed by African Americans.
[s]
1 in 8 women will be diagnosed with breast cancer in their lifetime.
[s]
[s]
An estimated 2,150 men will be diagnosed with breast cancer, and 410 will die from it each year.
[s]
An estimated 5% to 10% of all breast cancers are directly attributable to inherited gene mutations, most often to mutations in the

BRCA1

or

BRCA2

genes [s]
5% of breast cancers occur in women under 40, and is the leading cause of cancer deaths among women 20 to 59.
[s]
The good news?
Right now there are 2.5 million breast cancer survivors in the US.
[s]
More than 8 out of 10 people survive breast cancer beyond five years. More than three quarters of people survive it beyond 10 years.
[s]
Have a great day all, and have fun with the hop later on!!