Good morning from Newport, RI all!!
I'm hanging out here for the long weekend, one of my favorite places on the planet to kick back, relax, shop, eat lobster… all things nautically entertaining!!!
Post to come on the delights of this seaside village that so captivates my heart (I've made FM fall in love with it too!)
So on to the Weekly Wishes, because that's another love of mine…


Last Week:
Welllll… I didn't get the Apple picking post up.
::Womp Womp::
But I'm going to give it a shot for this week, I promise!
Do More For ME
I said I'm in Newport right?!?! This is my ideal relax spot, and I'm taking some time just to exist and enjoy it.
So blogging and everything else will be on the back burner.
[s]
So this week's goals…



Rock my First Program
I got the training/clearance to teach programs for my job, and I have my first day of 8 programs in a row on Tuesday.
I'm super excited to rock it!
Get my Strides on
Sunday is the Strides walk at Jones Beach and I'm getting ridiculously excited for it! I've got all my pink gear ready to rock, I have to update my t-shirt with this year's date, and fire up my sneakers for 5k of hope and inspiration.
So many pics to come!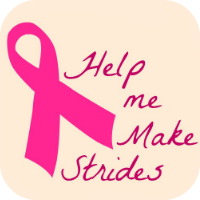 Reminder:
I'm still taking donations up to and after the walk.
If you have some change laying around, or you hit the scratch off lottery for $2, and would like to consider donating it to a worthy cause, I would be eternally grateful!

And that's going to be a hefty chore, so my wishes will end there!
Have a great Columbus Day all.
Celebrate the conquering of native lands for the promise of a better life, escape from religious persecutions, and the chance at the American dream (and maybe some STDs too, but we'll just ignore that for now!)
[s]
Exactly!...
Be well!