Hooray it's that time of the month again!!

No, not THAT time, relax. Time for Boys Behind the Blog.

I love, love, love this link up because it lets all of you lovely readers get to learn a bit more about the FM I write about so often.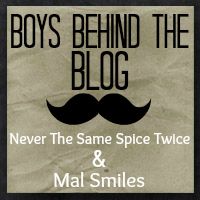 For some reason he keeps denying the offer to hack the blog for the day and write his own post, but I can get him to answer these questions, so without further ado…
1. Who is your favorite band/musician?
There are too many good bands to have just one favorite, but I'll try to narrow it down. Favorite local band; Wild Adriatic. Favorite stadium filling band; Journey. Guilty pleasure; Taylor Swift.
"OMG TAYLOR, I love your work!"

I can't stand her. He knows this. But it's okay. Journey was actually the first concert we went together to.

He bought me a Don't Stop Believing t-shirt. I still have and love it!!
2. What was your first CD/tape?
My first tape was the soundtrack to the Ninja Turtles Movie. Coming out of their shells or something like that. Ninja, ninja, rap!
Mine was either TLC's Fanmail, or Hanson's first album. Yup, that's right. No shame!

However, this turtle rap thing might be shameful!
3. Who was your first concert?
I believe my first concert was Gym Class Heroes, back when their biggest song was Taxi Driver.
I took cutie for a ride in my death cab...

Not my fav group, but a rather clever song, I agree!
Too bad really, I think he had a shot @ being best friends with Sharon and Ozzy!
4. What is your favorite Thanksgiving food?
Sandwiches the next day. Leftover turkey, cranberry sauce, dressing, piled high on a dinner roll. ...and pumpkin pie.
I'm having difficulty finding a response to this because leftover day is my FAV! and turkey a la king day, but sammies are good too, yum!
5. Finish the sentence: I am thankful for...
I am thankful for the support I receive from my wife, family, friends, battle buddies, NCOs, and teachers and professors that I have come across. Without their backing I wouldn't have dared to shake up my life once in a while. Going back to school and joining the Army would not have happened had these people not been there to push me to better myself and my life. Thank you to all of them.
You're welcome! I always told you we were going to do big things, this is just one of them.
He's a trooper for putting up with my junk, even 7,000 miles away!!
Thanks FM!