Today I decided to go with a nice His & Her post, a little about FM, a little about me, and happiness all around…
HIS
FM is back for another round and has graciously answered his questions for
Boys Behind the Blog
, although apparently it was an "easy" month for him.
Let's check out what kinda shenanigans he's brought up this time… as always, my snark will follow.
1. If you could live anywhere, where would you live?
I would live in New Zealand. They have mountains, snow, oceans, warm weather, and everything in between. Not to forget, Kiwis are some of the nicest people I've met! I once had a family give me a card with their phone number on it; they told me if I ever make it to NZ to call them and they will pick me up from the airport and give me a place to stay. So nice!
Note: I find this very strange.

Who does that?

Apparently people from New Zealand!
2. Sand or snow?
If you've followed Lauren's blog, you probably already know this answer. I choose snow!
And if you follow this blog you know that snow is basically the anti-Christ right now.

Ugh stupid frozen precipitation!
3.

What Winter Olympic sport would you rock at?
So, I snowboard. Although I like to think I'm pretty good, my riding is not Olympic caliber. If I could pick one that would be fun to learn and excel at, I'd pick curling. Ask my friends; I play a mean game of shuffle puck!
Someday you will see us on the first co-ed curling team at the Olympics.

LOVEEE it!
4. You're cooking a romantic dinner- what is your go-to dish?
Lauren is a much better cook than I am, but I like to think I could hold my own if we were to have a kitchen throw down. I might come out with steak au poivre or spicy chicken and quinoa, paired with a spinach based salad and a complimenting wine for a romantic dinner. Then again, don't I score romantic points for cooking dinner anyway?
I can't lie, one of the best things ever was to come home at 10pm to a FM cooked dinner after an entire day of work/classes.

And he's not a bad chef!
5. Fill in the blank: This year, I gave Lauren a ____________________ for Valentine's Day?
Uh oh. I really didn't get Lauren a "Valentine's Day" gift. She mocks the holiday anyway, and we've never really celebrated it. I will say that in lieu of a heart shaped box of candy, I'm giving her a chance to explore a country that we never thought we'd visit! Welcome to Korea, Honey! Happy Valentine's Day!
I have no snark for this.

I dislike Valentine's Day, always have. I really only accept anything from my father on 2/14, and would much rather spend another spontaneous day dating Mr. FM.

Plus, when you consider the means for St. Valentine's sainthood it really doesn't seem like such a great reason to guzzle yummies and get all lovey dovey.
HERS
I'm a day late, but it doesn't take away from the fact that I'm the kinda girl who…
*Is notoriously on time if not early
*Won't take "no" for an answer… ever
*Loves a challenge & won't back down
*Will do anything for the people she loves
*Could get lost in a museum for days
*Needs to have everything in order or she can't function
*Loves strong coffee and deep red wine paired with a good book
*Color codes her box of nail polish
*Works herself to the bone
*Prefers staring at old dusty artifacts
*Hates hair, and flying, and cooking breakfast
*Will go after what she wants, even if it's not a popular choice
*Wants to write a bestselling memoir
*Spends Friday nights at home with her family, and loves it
*Is always asking questions, and needing answers
*Wants to change the world, no matter how minutely
But if you read this blog on the regular, you probably know half of that already!
It's a great reflective exercise though to remind me how much I have going for me, and the same goes for all of you! So link up and share what kinda girl you are...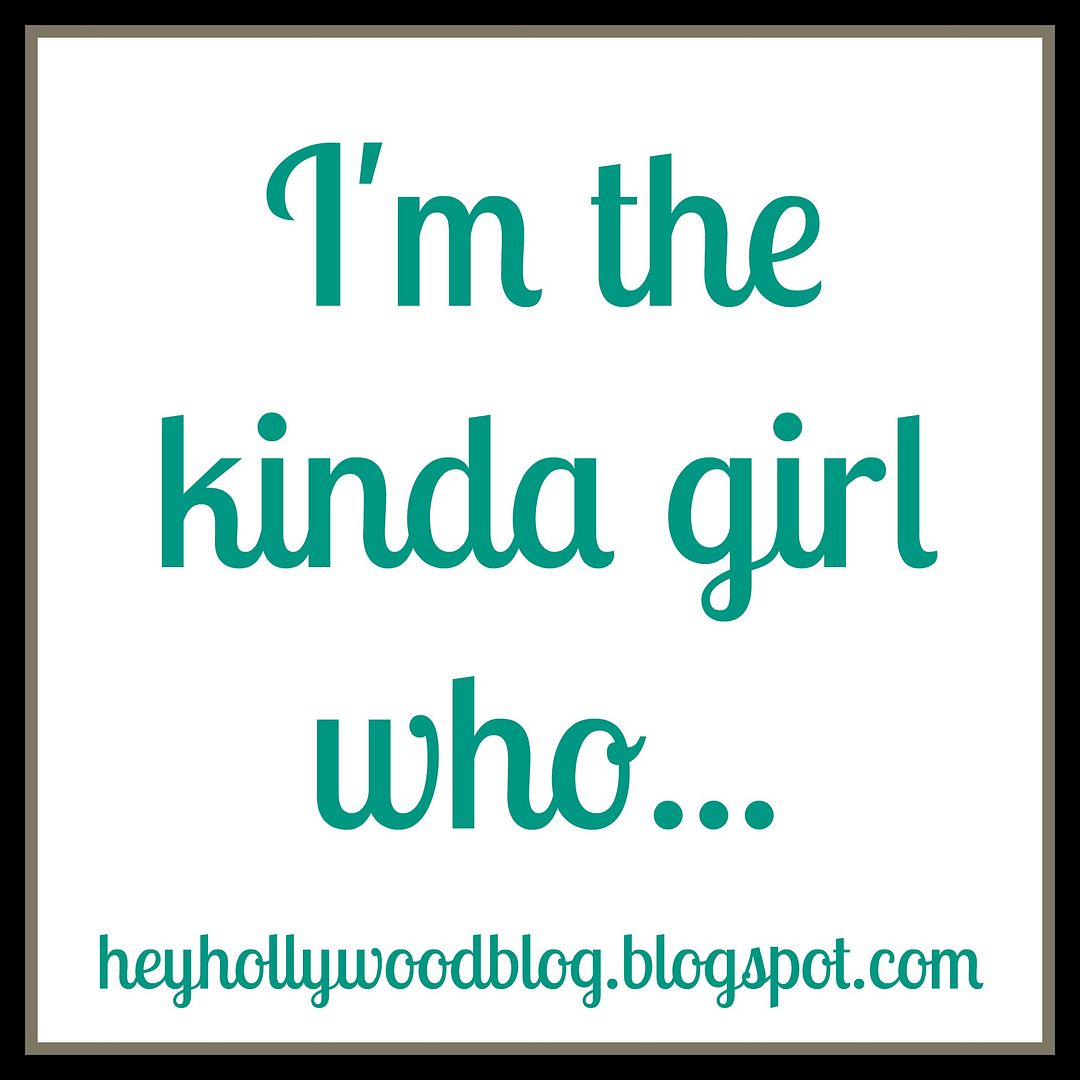 Have a great Thursday all! Friday's just around the corner
!!